Custom Solutions
Whether it's through our best-selling programs or ones that we create specifically for your organization,
our team of safety management and compliance experts is dedicated to helping you improve your
employee communication program and reduce the risk of accidents and injuries in your workplace.
We Have Numerous Options for You
We offer a variety of products to meet the specific needs of your business. Options include:
Select posters from our safety portal to design your own program:
Personalize existing Clement product with your company's branding/logo.
Customize by changing any poster text to fit your facility's safety policies and procedures.
Customize with photos of your staff that can be submitted online or coordinated with our Sales staff.
(Note: photo submission guidelines can be provided to ensure the best results)
The following finishing options are available for all of our products:
Laminated
Unlaminated
Wall adhesive
Foamcore
Corrugated plastic
Clement Can Help You Create A Workplace Culture That Promotes Safe Behavior
If you would like help to determine your topics and poster selections, please feel free to contact one of our safety specialists who can guide you through the process to ensure your satisfaction. Contact us at: 1-800-253-6368
You can then choose monthly, quarterly or yearly shipments. Whatever works best for you
Contact one of our National Account Managers at 1-800-253-6368 for a FREE safety consultation.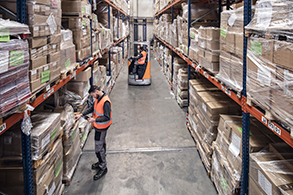 Testimonials
• • • • • • • • • • • • • • • • • • •
I rate the service and work with Clement over the years five stars. What I've liked is the assistance they provide in refining an idea I may have for a safety product and how their development team makes it even better. The service is always timely and I'm provided updates as to the status of completion along with details of the shipping so I can alert our locations about their product arrival. There hasn't been a time where I've been disappointed working with the team from Clement Communications.
C. Niec - Paramount Staffing
Five stars! I really needed a product and had a deadline. Clement went above and beyond to make sure that I got my order on time. There was an error on our end but they were able to meet my deadline anyway without any trouble. Thank you!
Angelica Lujan - BMW/WWL