Safety Sessions™ Safety Meeting PowerPoint Presentations
Safety Sessions™ PowerPoint Presentation is a comprehensive series of 52 ready-made PowerPoint presentations on key general safety topics for your employee safety meetings. Fully customizable for your workplace environment.
Comprehensive PowerPoint Presentations For Your Next Safety Meeting!
Clement Safety Sessions™ Safety Meeting PowerPoint Presentations are a series of over 50 ready-made PowerPoint presentations, covering general safety topics for your employee safety meetings. With so many topics covered, you can preplan almost an entire year of weekly safety meetings on the safety issues and topics that are important to your organization.
Topics covered include: Accident Prevention, Back Safety, Electrical Safety, Fire Safety, Hand Protection, Hand Tool Safety, Housekeeping, Materials Handling, Safe Lifting, Warehouse Safety and many more!
Customizable for your organization
Each presentation has been professionally designed and developed for immediate use but feel free to customize your presentation any way you want! Add your company logo, add information that is specific to your company and/or job site or add your own images.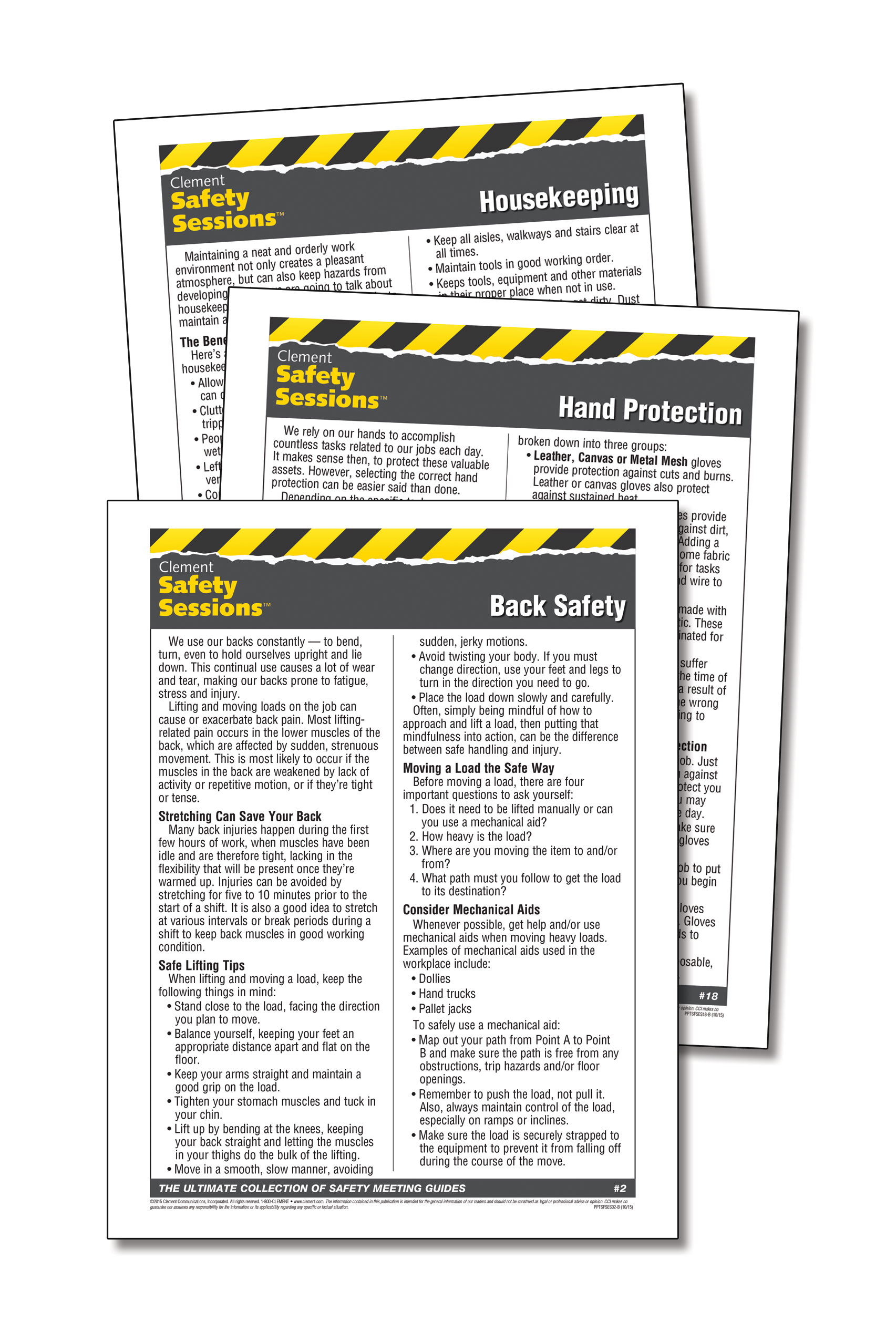 Included with each PowerPoint Presentation:
Facilitator's Guide - simple steps and tips to get your Safety Sessions presentation ready for your next safety meeting.
Meeting Script - Content covered in each PowerPoint is presented in a script-like format should you choose to conduct your meeting with or without the use of the visual presentation.
Employee Quiz with separate Answer Key - Build up interaction and test your employees on the topic covered with a printable quiz to hand out during your meeting. Have each employee sign their name at the bottom of the quiz and collect them as proof of safety training to an OSHA inspector.
Meeting Log - Plan your safety meeting topic schedule ahead of time with the help of our meeting log that lists each topic covered.
Sign-in Sheet - Document the list of employees present at each safety meeting for when OSHA comes knocking.
If you prevent just one minor accident, you will have more than paid for the cost of your investment. Make your safety meeting interactive and order the Safety Sessions™ Safety Meeting PowerPoint Presentations today!
Product info:
Product code: GCDSFSES01
Format: 52 PowerPoint Presentations
Includes: Meeting Sign-in Sheet, Meeting Log, Employee Quiz with Answer Key, Meeting Scripts and Facilitator's Guide in PDF format.